Release of Memos/Prosecution Decision
---
I thought I'd combine these two stories into one discussion since they are related.
WASHINGTON (CNN) -- Interrogation tactics such as waterboarding, sleep deprivation and slapping did not violate laws against torture when there was no intent to cause severe pain, according to a Bush-era memo on the tactics released Thursday.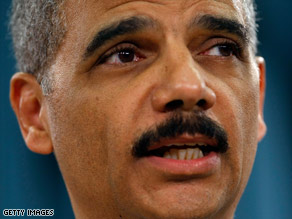 Attorney General Eric Holder says government workers who followed protocol won't be prosecuted.
"To violate the statute, an individual must have the specific intent to inflict severe pain or suffering," said an August 2002 memo from then-Assistant Attorney General Jay Bybee to John Rizzo, who was acting general counsel for the CIA.
"Because specific intent is an element of the offense, the absence of specific intent negates the charge of torture. ... We have further found that if a defendant acts with the good faith belief that his actions will not cause such suffering, he has not acted with specific intent," Bybee wrote.
The Bybee opinion was sought on 10 interrogation tactics in the case of suspected al Qaeda leader Abu Zubaydah.
Justice Dept. Won't Prosecute Those Who Followed CIA Directives(from MSNBC)

WASHINGTON - In the aftermath of the Sept. 11 attacks, CIA operatives were allowed to shackle, strip and waterboard terror suspects. Now, President Barack Obama has assured these operatives that they will not be prosecuted for their rough interrogation tactics.
At the same time, Obama's attorney general offered the operatives legal help if anyone else takes them to court over the harsh interrogation methods that were approved by the Bush administration.
The offer of presidential support, however, did not extend to those outside the CIA who approved the so-called enhanced interrogation methods or any CIA officers who may have gone beyond what was allowed in four legal memos written in 2002 and 2005 that the Obama administration released Thursday.
Personally, I think the decisions allow us to see how Pres. Obama operates in terms of trying to seek compromise. He has been clear about his disagreement with Bush's interrogation policies while at the same time wanting to look forward, not backwards. Can he have it both ways?