The Green Revolution Chapter 3
---
I'm starting a new thread for the updates again, partly because as threads get long they're harder to follow/update, and partly because this revolt is definitely moving to the next level.
Chapter 1 of this discussion here.
As much as I'd like to lead this thread with one of the beautiful images of today's huge protest from the Images thread, the better image is actually this one: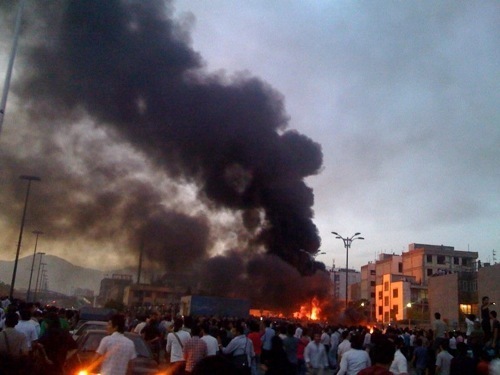 What you're looking at is the burning of the Basij militia base in Azadi Square, Tehran. Trusted sources report that following the shooting of a protester by the militia at the end of today's event, other protesters reacted by burning down the base, and killing the Basij commander.
That's what I meant by next level. As I predicted in a rather gloomy post last night, the kids are entering angry revenge mode, which is actually an important step in order for them to succeed in taking over the regime. The killing of that protester (although unofficial reports give up to 7 victims) fueled the rage needed to take down a regime command post.
I'm assuming that before they got to the commander, they overwhelmed a number of militiamen, likely stripping them of their weapons.
The important thing here is not this first command post and a few weapons. What's important is that they now realize they can do more than they ever possibly imagined. Now they're really angry, and know where the weapons are.
Ahmadinejad and Khamenei should be very worried now.