Neda's Spirit Lives
---
Apparently, the media seemed to focus more on the "beer summit" yesterday than the events in Iran. However, I thought it was important to re-visit the movement which continues to gain momentum in Iran. 
Yesterday marked 40 days since the violent, heart-wrenching, and symbolic death of Neda which was viewed by so many throughout the world. Mourners attempted to visitthe gravesite (of other victims, too) with much government resistence and continued violence. Even Mousavi tried to come out of his car for the events, but was surrounded by police. There were reports of many chanting "Neda is alive. Ahmadinejad is dead."
We are now learning of "secret prisons" set up and many people unaccounted for. I think the government has been taken by surprise that this "green" movement is not letting up, despite forceful crackdowns. On the contrary, it seems to be intensifying.
President Ahmadinejad will be sworn in next Thursday. What can we expect on that day in Iran? There are many protests planned throughout the world to show support for the courage, passion, and determination of the Iranian people and to protest a tainted election. Does anyone else feel so helpless watching this unfold? I wish we could do more. I did purchase a Neda t-shirt to proudly show a connection to this injustice, but that small gesture simply does not go far enough.
Most experts agree that change will come slowly for Iran, but they also agree that this is the real deal: a fight for change that unites a people to shout for justice and never give up.
From CNN:
TEHRAN, Iran (CNN) -- Security forces in Iran on Thursdayconfronted thousands of protesting Iranians across the city, first at acemetery and later at a prayer venue and near a government building,witnesses and news reports said.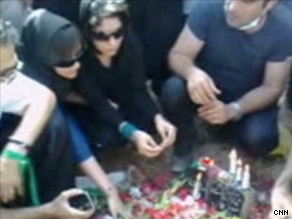 Mourners gather around the grave of Neda Agh-Soltan in Beheshte Zahra Cemetery.
The gathering was banned, but participants ignored the government strictures.
However, security forces barred opposition leaders Mir Hossein Moussaviand Mehdi Karrubi from the gravesite of Neda Agha-Soltan, the26-year-old woman shot in election protests on June 20, witnesses andnews reports said.
More than 3,000 people were gathered at Agha-Soltan's grave, a witness said.
Mourners arrived on the religiously significant 40th day after thefatal shooting in Tehran. For Iranians, a predominantly Shiite Muslimpopulation, the 40th day after a death marks the last official day ofmourning.
At the cemetery, security forces used tear gas toclear the area of demonstrators and mourners. A witness said riotpolice and Basij militia were at the scene, but the confrontations withpeople in the crowd involved the militia.

Watch a report on the memorial clashes »